50 Life Changing Robin Sharma Quotes
Robin Sharma is one of the world's premier thinkers on leadership and personal development. He is a motivational speaker, writer and leadership expert. Robin Sharma is the author of best-sellers, The Monk Who Sold His Ferrari and The Leader Who Had No Title.
Here are some powerful Robin Sharma Quotes to inspire you.
SEE ALSO: 53 Robert Kiyosaki Quotes That Can Change Your Life
Robin Sharma Quotes
1. "Dream Big. Start small. Act now." – Robin Sharma
2. "Change is hardest at the beginning, messiest in the middle and best at the end." – Robin Sharma
3. "The smallest of actions is always better than the noblest of intentions." – Robin Sharma
4. "Focus is more valuable than IQ." – Robin Sharma
5. "To double your income, triple your investment in self-development." – Robin Sharma
6. "Everything is created twice, first in the mind and then in reality." – Robin Sharma
7. "Your "I CAN" is more important than your IQ." – Robin Sharma
8. "You can't make someone feel good about themselves until you feel good about yourself." – Robin Sharma
9. "The mind is a wonderful servant, but a terrible master." – Robin Sharma
10. "Criticism is the price of ambition." – Robin Sharma
SEE ALSO: 20 Powerful Tony Robbins Quotes That Can Change Your Life
Robin Sharma Quote (Picture)
11. "Clarity breeds mastery." – Robin Sharma
12. "Victims make excuses. Leaders deliver results." – Robin Sharma
13. "Small daily improvements over time lead to stunning results." – Robin Sharma
14. "Ordinary people love entertainment. Extraordinary people adore education." – Robin Sharma
15. "Give out what you most want to come back." – Robin Sharma
16. "Dreamers are mocked as impractical. The truth is they are the most practical, as their innovations lead to progress and a better way of life for all of us." – Robin Sharma
17. "Never overlook the power of simplicity." – Robin Sharma
18. "I once read that people who study others are wise but those who study themselves are enlightened." – Robin Sharma
19. "Sometimes success isn't about making the right decision, it's more about making some decision." – Robin Sharma
20. "As you move outside of your comfort zone, what was once the unknown and frightening becomes your new normal." – Robin Sharma
SEE ALSO: 50 Powerful and Memorable Zig Ziglar Quotes
Robin Sharma Quote (Picture)
21. "A problem is only a problem when viewed as a problem." – Robin Sharma
22. "If you're not scared a lot you're not doing very much." – Robin Sharma
23. "Where victims see adversity, extreme achievers see opportunity." – Robin Sharma
24. "The project you are most resisting carries your greatest growth." – Robin Sharma
25. "The only failure is not trying." – Robin Sharma
26. "Your daily behavior reveals your deepest beliefs." – Robin Sharma
27. "Big people don't make people feel small." – Robin Sharma
28. "Happiness is a journey, not a destination." – Robin Sharma
29. "What gets measured gets improved." – Robin Sharma
30. "All great thinkers are initially ridiculed – and eventually revered." – Robin Sharma
SEE ALSO: 19 Most Inspiring Brian Tracy Quotes
Robin Sharma Quote (Picture)
31. "There are no mistakes in life, only lessons. There is no such thing as a negative experience, only opportunities to grow, learn and advance along the road of self mastery. From struggle comes strength. Even pain can be a wonderful teacher." – Robin Sharma
32. "We grow fearless when we do the things we fear." – Robin Sharma
33. "Awareness precedes choice and choice precedes results." – Robin Sharma
34. "Success on the outside means nothing unless you also have success within." – Robin Sharma
35. "Don't live the same year 75 times and call it a life." – Robin Sharma
36. "Potential unexpressed turns to pain." – Robin Sharma
37. "Success is nothing more than living your life according to your own truth and your own terms." – Robin Sharma
38. "Sow a character, you reap your destiny." – Robin Sharma
39. "You are also what you say to yourself all day long." – Robin Sharma
40. "Laughing is medicine for the soul." – Robin Sharma
SEE ALSO: 23 Thought Provoking Jack Canfield Quotes
Robin Sharma Quote (Picture)
41. "Greatness begins beyond your comfort zone." – Robin Sharma
42. "Your current conditions are echoes of your past choices." – Robin Sharma
43. "An addiction to distraction is the end of your creative production." – Robin Sharma
44. "To breathe properly is to live properly." – Robin Sharma
45. "Books simply help you to see what is already within your self. That's what enlightenment is all about." – Robin Sharma
46. "Having talent is fantastic. Having confidence is even more important." – Robin Sharma
47. "Go big or stay home!" – Robin Sharma
48. "You were born awesome. Please don't die average." – Robin Sharma
49. "The hours that ordinary people waste, extraordinary people leverage." – Robin Sharma
50. "You'll never change the world if you're always worried about being liked." – Robin Sharma
SEE ALSO: 50 Unforgettable Jim Rohn Quotes
Robin Sharma Quote (Picture)
Recommended Robin Sharma Book:
SEE ALSO: 20 Powerful and Life Changing Quotes from T. Harv Eker
What is your favorite Robin Sharma quote?
Visit Robin Sharma's Official Website
Follow Robin Sharma on YouTube
Top 10 The Alchemist Quotes that Will Inspire You to Follow Your Dreams
Paulo Coelho's masterpiece "The Alchemist" is an international bestseller which has sold more than 65 million copies worldwide. Originally written in Portuguese, it has been translated into 80 different languages making it the most translated book by any living author.
It follows the mystical story of a shepherd boy named Santiago who travels to Egypt after having a recurring dream of finding a treasure there. Santiago's journey teaches us about the essential wisdom of listening to our hearts, of recognizing opportunity, and most importantly, to follow our dreams.
Below are top 10 The Alchemist quotes that will inspire you to follow your dreams.
Top 10 The Alchemist Quotes by Paulo Coelho
1. "And, when you want something, all the universe conspires in helping you to achieve it." – Paulo Coelho
2. "When we strive to become better than we are, everything around us becomes better, too." – Paulo Coelho
3. "Every blessing ignored becomes a curse." – Paulo Coelho
4. "It's the possibility of having a dream come true that makes life interesting." – Paulo Coelho
5. "One is loved because one is loved. No reason is needed for loving." – Paulo Coelho
6. "Remember that wherever your heart is, there you will find your treasure." – Paulo Coelho
7. "The simple things are also the most extraordinary things, and only the wise can see them." – Paulo Coelho
8. "There is only one thing that makes a dream impossible to achieve: the fear of failure." – Paulo Coelho
9. "And, when you can't go back, you have to worry only about the best way of moving forward." – Paulo Coelho
10. "You will never be able to escape from your heart. So it's better to listen to what it has to say." – Paulo Coelho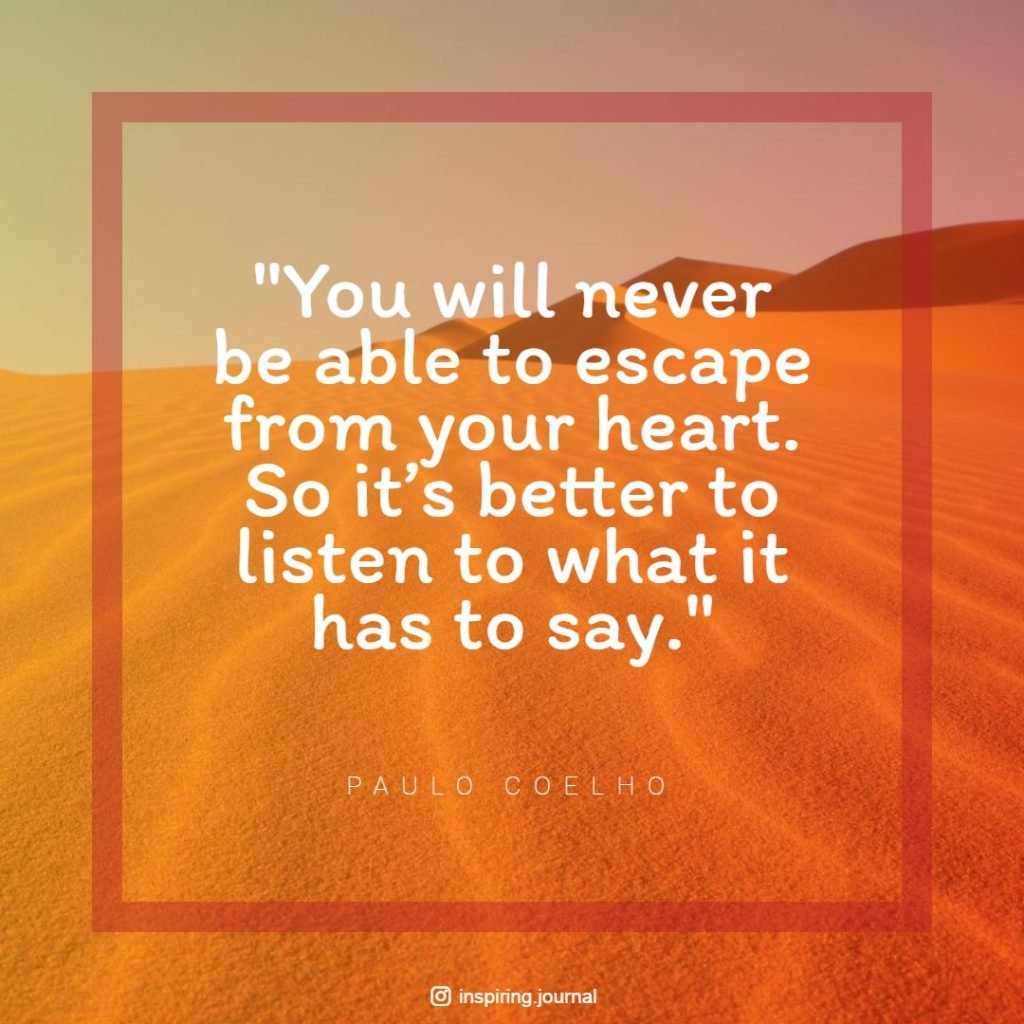 What are your favorite "The Alchemist" quotes? Please share in the comment section below.
As a Man Thinketh – Quotes that Will Change Your Life
"As a Man Thinketh" by James Allen is one of the best self-help books ever written. It has been a powerful source of inspiration ever since its first publication in 1903 and remains a classic bestseller.
This book gives an insight into the power of thoughts; the effect they have on our health, body, and circumstances; and how we become what we think.
Here are some thought-provoking As a Man Thinketh quotes by James Allen that will change your life.
As a Man Thinketh quotes by James Allen
1. "A man is literally what he thinks, his character being the complete sum of all his thoughts." – James Allen
2. "As the plant springs from, and could not be without, the seed, so every act of a man springs from the hidden seeds of thought, and could not have appeared without them." – James Allen
3. "A noble and Godlike character is not a thing of favour or chance, but is the natural result of continued effort in right thinking, the effect of long-cherished association with Godlike thoughts. An ignoble and bestial character, by the same process, is the result of the continued harbouring of grovelling thoughts." – James Allen
4. "Man's mind may be likened to a garden, which may be intelligently cultivated or allowed to run wild; but whether cultivated or neglected, it must, and will, bring forth. If no useful seeds are put into it, then an abundance of useless weed-seeds will fall therein, and will continue to produce their kind." – James Allen
5. "Just as a gardener cultivates his plot, keeping it free from weeds, and growing the flowers and fruits which he requires, so may a man tend the garden of his mind, weeding out all the wrong, useless, and impure thoughts, and cultivating toward perfection the flowers and fruits of right, useful, and pure thoughts." – James Allen
6. "Men do not attract that which they want, but that which they are." – James Allen
7. "Men are anxious to improve their circumstances, but are unwilling to improve themselves; they therefore remain bound." – James Allen
8. "Good thoughts and actions can never produce bad results; bad thoughts and actions can never produce good results." – James Allen
9. "A particular train of thought persisted in, be it good or bad, cannot fail to produce its results on the character and circumstances. A man cannot directly choose his circumstances, but he can choose his thoughts, and so indirectly, yet surely, shape his circumstances." – James Allen
10. "Strong, pure, and happy thoughts build up the body in vigour and grace. The body is a delicate and plastic instrument, which responds readily to the thoughts by which it is impressed, and habits of thought will produce their own effects, good or bad, upon it." – James Allen
11. "The body is the servant of the mind. It obeys the operations of the mind, whether they be deliberately chosen or automatically expressed. At the bidding of unlawful thoughts the body sinks rapidly into disease and decay; at the command of glad and beautiful thoughts it becomes clothed with youthfulness and beauty." – James Allen
12. "Change of diet will not help a man who will not change his thoughts. When a man makes his thoughts pure, he no longer desires impure food." – James Allen
13. "As he thinks, so he is; as he continues to think, so he remains." – James Allen
14. "All that a man achieves and all that he fails to achieve is the direct result of his own thoughts." – James Allen
15. "A man can only rise, conquer, and achieve by lifting up his thoughts. He can only remain weak, and abject, and miserable by refusing to lift up his thoughts." – James Allen
16. "All achievements, whether in the business, intellectual, or spiritual world, are the result of definitely directed thought, are governed by the same law and are of the same method; the only difference lies in the object of attainment." – James Allen
17. "The dreamers are the saviours of the world." – James Allen
18. "He who cherishes a beautiful vision, a lofty ideal in his heart, will one day realize it. Columbus cherished a vision of another world, and he discovered it; Copernicus fostered the vision of a multiplicity of worlds and a wider universe, and he revealed it; Buddha beheld the vision of a spiritual world of stainless beauty and perfect peace, and he entered into it." – James Allen
19. "Cherish your visions; cherish your ideals; cherish the music that stirs in your heart, the beauty that forms in your mind, the loveliness that drapes your purest thoughts, for out of them will grow all delightful conditions, all, heavenly environment; of these, if you but remain true to them, your world will at last be built." – James Allen
20. "Dream lofty dreams, and as you dream, so shall you become." – James Allen
21. "The greatest achievement was at first and for a time a dream. The oak sleeps in the acorn; the bird waits in the egg; and in the highest vision of the soul a waking angel stirs. Dreams are the seedlings of realities." – James Allen
22. "Man is made or unmade by himself; in the armoury of thought he forges the weapons by which he destroys himself; he also fashions the tools with which he builds for himself heavenly mansions of joy and strength and peace. By the right choice and true application of thought, man ascends to the Divine Perfection; by the abuse and wrong application of thought, he descends below the level of the beast. Between these two extremes are all the grades of character, and man is their maker and master." – James Allen
23. "Man is buffeted by circumstances so long as he believes himself to be the creature of outside conditions, but when he realizes that he is a creative power, and that he may command the hidden soil and seeds of his being out of which circumstances grow, he then becomes the rightful master of himself." – James Allen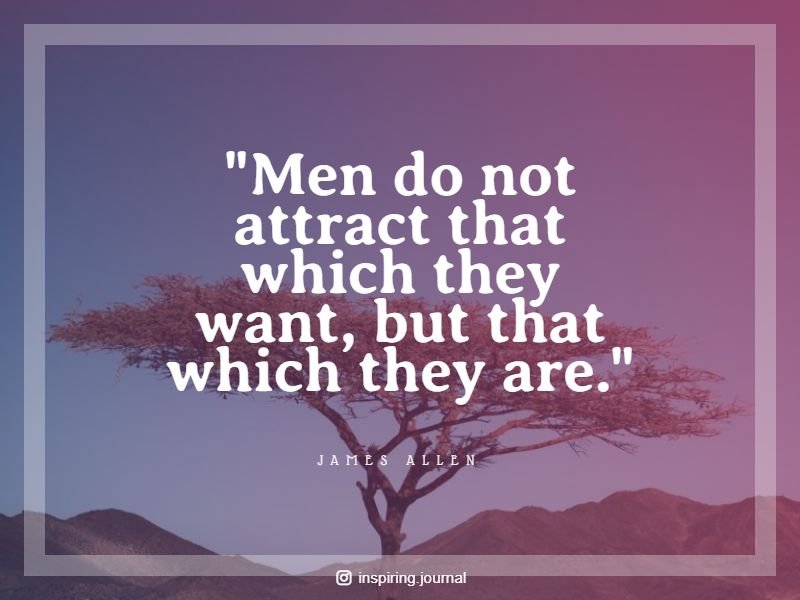 25 Powerful Lessons from "See You At the Top" by Zig Ziglar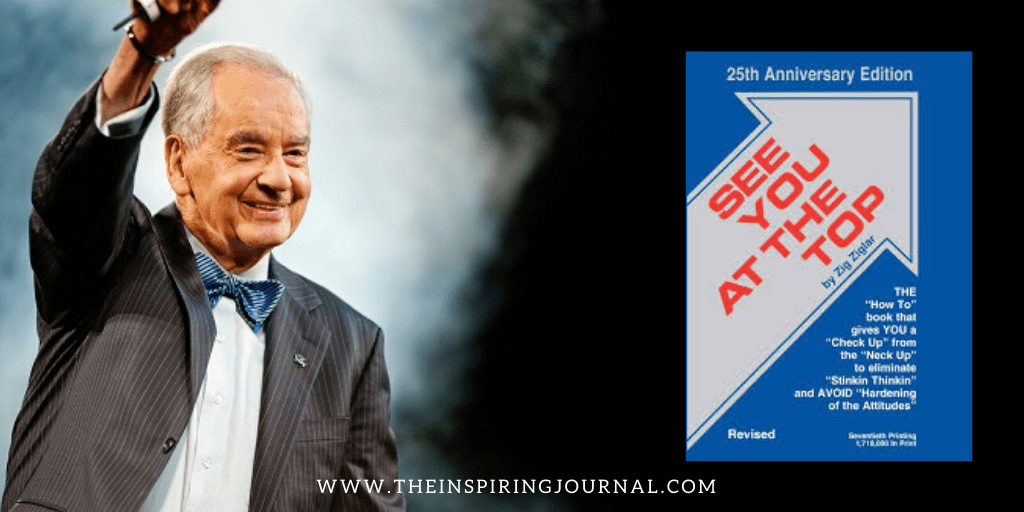 With more than 1.6 million copies in print, See You At The Top by Zig Ziglar is widely regarded as a true American classic. This book emphasizes the value of a healthy self-image and shows how to build it. This book tells you how to set and achieve goals, and provides step-by-step instructions on how to change the way you think about yourself and your surroundings.
This book has served as a guide to generations and helped them to achieve personal success. The lessons and insights from this book are widely used by education institutes, corporations, government agencies, health institutions and sales organizations.
So, here are 25 outstanding lessons from this book that will inspire you immensely.
Lessons from "See You At the Top" by Zig Ziglar
1. The only difference between the big shot and the little shot is the big shot is simply a little shot who kept shooting.
2. You can get everything in life you want if you help enough other people get what they want.
3. The way you see life will largely determine what you get out of it.
4. What you get by reaching your goals is not nearly as important as what you become by reaching them.
5. Go as far as you can see, and when you get there you will always be able to see farther.
6. We acquire the characteristics of the people we associate with on a steady basis.
7. Failure has been correctly identified as the line of least persistence, whereas success is often a question of simply sticking to the job and working and believing while you are sticking. If your particular job is harder than you might wish, just remember you can't sharpen a razor on a piece of velvet and you can't sharpen a man by spoon-feeding him.
8. Success occurs when opportunity meets preparation.
"Nothing in the world can take the place of persistence. Talent will not. Nothing is more common than unsuccessful men with talent. Genius will not. Unrewarded genius is almost a proverb. Education will not. The world is full of educated derelicts. Persistence, determination and hard work makes the difference." – Calvin Coolidge
9. When you choose a habit, you also choose the end result of that habit. Good habits are difficult to acquire, but easy to live with. Bad habits are easy to acquire, but difficult to live with.
10. Money, assuming it is legitimately earned, is a yardstick that simply measures the service you have rendered. You are obligated to earn more than you need because in so doing you create job opportunities for those less talented than you.
11. Yes, there is danger in setting goals but the risk is infinitely greater when you don't set goals. The reason is simple. Just as ships are built to sail the seas, planes to fly the heavens, and houses for living, so is man created for a purpose. You are here for a reason. That purpose is to get everything out of you that is humanly possible so you can make your contributions to mankind. Goals enable you to do more for yourself and others, too.
12. Desire is the ingredient that changes the hot water of mediocrity to the steam of outstanding success. It's the ingredient that enables a person with average ability to successfully compete with those who have far more. Desire is the "extra" that makes the little differences and it's the little differences that make the big difference in life.
13. Success in life is not determined by having been dealt the good hand. Success is determined by taking the hand you were dealt and utilizing it to the very best of your ability.
14. Desire enables an individual to take whatever ability he has in whatever he's doing and utilize it to the maximum. We should give it our best and then some, because our yearning power is more important than our earning power.
15. Desire is the ingredient that makes the difference between an average performer and a champion.
16. Doing your best is more important than being the best."
17. It's not the situation, but the way we react to it that's important.
18. If you set the example you will not have to set the rules."
19. Regardless of what your income might be, your first responsibility is to save a portion of every dollar you earn for you and your future. The excitement of saving grows with every dollar you add to your account. Soon this "good" habit is ingrained and becomes a part of you. It is permanently ingrained in you when, as the Chinese say, your children [dollars] have children and then those children have children.
20. If you didn't save something on your current income – you wouldn't save anything on your future income.
21. Life is an echo. What you send out – comes back. What you sow – you reap. What you give – you get. What you see in others – exists in you.
22. If you want to reach your goal, you must "see the reaching" in your own mind before you actually arrive at your goal.
23. You must have a goal because it's just as difficult to reach a destination you don't have, as it is to come back from a place you've never been. Unless you have definite, precise, clearly set goals, you are not going to realize the maximum potential that lies within you.
24. Your mind acts on what you feed it.
25. Others can stop you temporarily – you are the only one who can do it permanently.
Hope these outstanding life lessons will help you lead a better life.
Get this book
SEE ALSO: 10 of Jack Canfield's Most Powerful Quotes From "The Success Principles"