37 Awesome Quotes That Will Inspire You To Take Risk
37 Awesome Quotes on Risk Taking
1. "If you are not willing to risk the unusual, you will have to settle for the ordinary." – Jim Rohn
2. "If you do what you've always done, you'll get what you've always gotten." – Tony Robbins
3. "The biggest risk is not taking any risk. In a world that's changing really quickly, the only strategy that is guaranteed to fail is not taking risks." – Mark Zuckerberg
4. "You don't have to be great to start, but you have to start to be great." – Zig Ziglar
5. "Every man dies. Not every man really lives." – William Wallace
6. "There are no mistakes in life, only lessons. There is no such thing as a negative experience, only opportunities to grow, learn and advance along the road of self mastery. From struggle comes strength. Even pain can be a wonderful teacher." – Robin Sharma
7. "And in the end it is not the years in your life that count, it's the life in your years." – Abraham Lincoln
8. "Life is either a daring adventure or nothing at all." – Helen Keller
9. "Do not be too timid and squeamish about your actions. All life is an experiment. The more experiments you make the better." – Ralph Waldo Emerson
10. "In order to succeed, your desire for success should be greater than your fear of failure." – Bill Cosby
11. "If you're not scared a lot you're not doing very much." – Robin Sharma
12. "Life is 'trying things to see if they work." – Ray Bradbur
13. "The only people who don't make mistakes are those who do nothing, and that is the biggest mistake of all." – Dr William Reilly
14. "The secret of getting ahead is getting started." – Mark Twain
15. "Never give up. You only get one life. Go for it!" – Richard E. Grant
16. "A ship in harbor is safe, but that is not what ships are built for." – John A. Shedd
17. "Only those who dare to fail greatly can ever achieve greatly." – Robert F. Kennedy
18. "Change is hardest at the beginning, messiest in the middle and best at the end." – Robin Sharma
19. "Everything you've ever wanted is on the other side of fear." – George Addair
20. "Go out on a limb. That's where the fruit is." – Jimmy Carter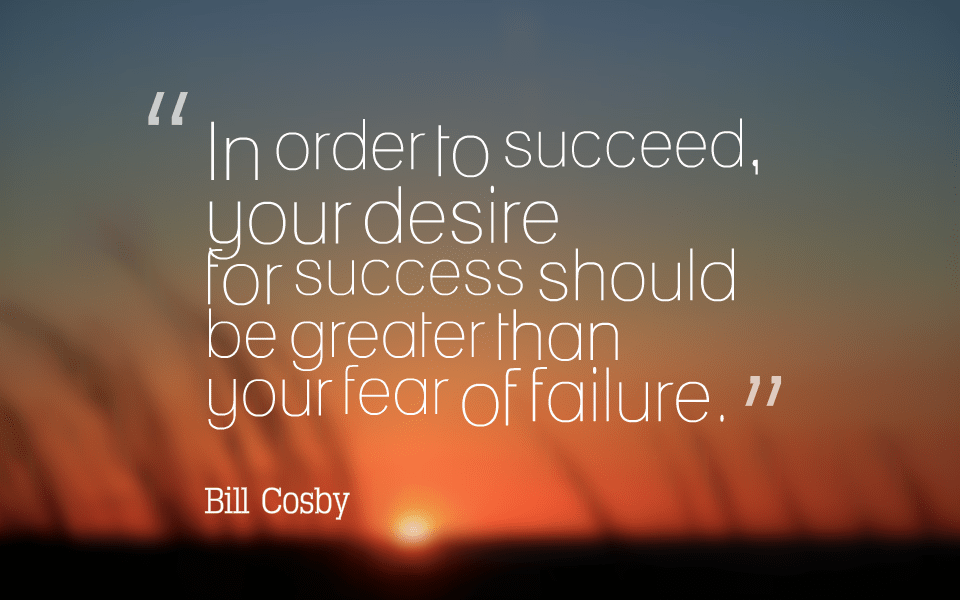 21. "Pearls don't lie on the seashore. If you want one, you must dive for it." – Chinese proverb
22. "Life is inherently risky. There is only one big risk you should avoid at all costs, and that is the risk of doing nothing." – Denis Waitley
23. "You'll always miss 100% of the shots you don't take." – Wayne Gretzky
24. "Take risks: if you win, you will be happy; if you lose, you will be wise." – Anonymous
25. "I am thankful for all of those who said NO to me. It's because of them I'm doing it myself." – Albert Einstein
26. "Only those who will risk going too far can possibly find out how far it is possible to go." – T.S. Eliot
27. "Adventure may hurt but monotony will kill you." – Unknown
28. "There is only one way to avoid criticism: do nothing, say nothing, and be nothing." – Aristotle
29. "Only those who play win. Only those who risk win. History favors risk-takers. Forgets the timid. Everything else is commentary." – Iveta Cherneva
30. "Progress always involves risks. You can't steal second base and keep your foot on first." – Frederick Wilcox
31. "Life is being on the wire, everything else is just waiting." – Karl Wallenda
32. "Do one thing every day that scares you." – Eleanor Roosevelt
33. "As you move outside of your comfort zone, what was once the unknown and frightening becomes your new normal." – Robin Sharma
34. "Life isn't about the number of breaths we take, but the moments that take our breath away." – Anonymous
35. "Life shrinks or expands in proportion to one's courage." – Anais Nin
36. "Your time is limited, so don't waste it living someone else's life." – Steve Jobs
37.
"Twenty years from now you will be more disappointed by the things that you didn't do than by the ones you did do. So throw off the bowlines. Sail away from the safe harbor. Catch the trade winds in your sails. Explore. Dream. Discover." – Mark Twain
SEE ALSO:
19 Quotes That Will Inspire You to Take Action
40 Greatest Success Quotes to Inspire You
35 Greatest Quotes about Money and Wealth
Life Quotes: 50 Best Quotes on Life
Time Quotes: 30 Best Quotes about Time
10 of the Greatest Arnold Schwarzenegger Quotes
Arnold Schwarzenegger (born July 30, 1947) is widely considered to be one of the greatest bodybuilders of all time. He is an Austrian-American former professional bodybuilder, actor, model, businessman and politician who served as the 38th Governor of California (2003–2011).
Schwarzenegger began lifting weights at the age of 15. He won the Mr. Universe title at age 20 and went on to win the Mr. Olympia contest a total of seven times.
He gained worldwide fame as a Hollywood action film icon, noted for his lead roles in such films as Conan the Barbarian, The Terminator, Commando and Predator. He became governor of California in 2003.
Here are top 10 Arnold Schwarzenegger quotes that are absolutely life-changing.
Arnold Schwarzenegger Quotes
1. "Strength does not come from winning. Your struggles develop your strengths. When you go through hardships and decide not to surrender, that is strength."  – Arnold Schwarzenegger
2. "For me life is continuously being hungry. The meaning of life is not simply to exist, to survive, but to move ahead, to go up, to achieve, to conquer." – Arnold Schwarzenegger
3. "The resistance that you fight physically in the gym and the resistance that you fight in life can only build a strong character." – Arnold Schwarzenegger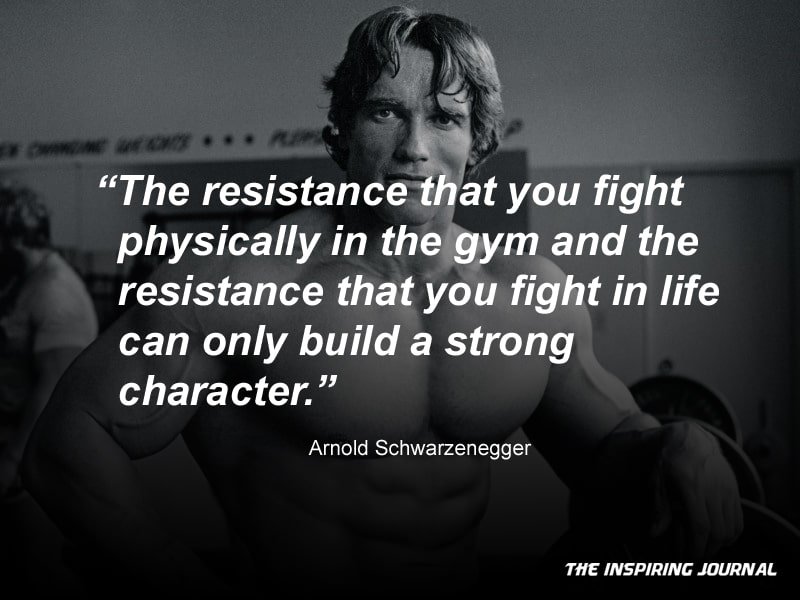 4. "Bodybuilding is much like any other sport. To be successful, you must dedicate yourself 100% to your training, diet and mental approach." – Arnold Schwarzenegger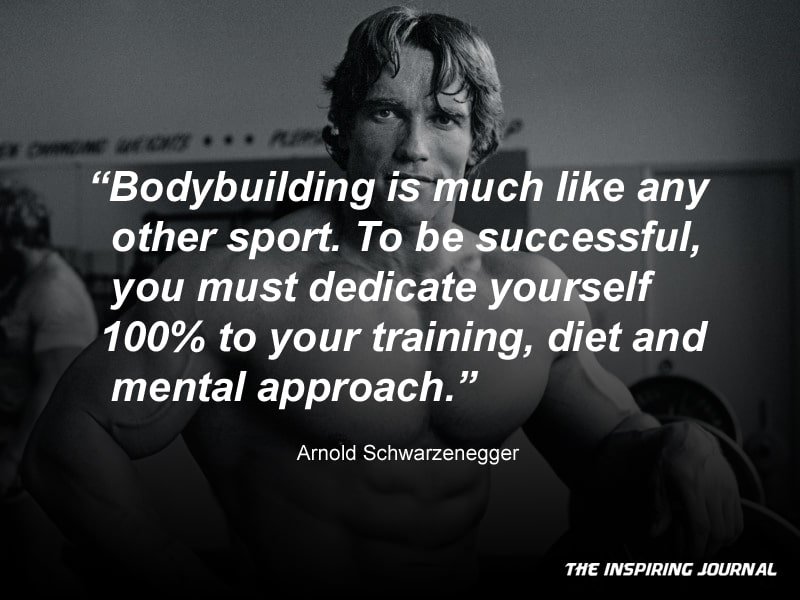 5. "What is the point of being on this Earth if you are going to be like everyone else?" – Arnold Schwarzenegger
6. "Just like in bodybuilding, failure is also a necessary experience for growth in our own lives, for if we're never tested to our limits, how will we know how strong we really are? How will we ever grow?" – Arnold Schwarzenegger
7. "The mind is the limit. As long as the mind can envision the fact that you can do something, you can do it, as long as you really believe 100 percent." – Arnold Schwarzenegger
8. "If you don't find the time, if you don't do the work, you don't get the results." – Arnold Schwarzenegger
9. "The worst thing I can be is the same as everybody else. I hate that." – Arnold Schwarzenegger
10. "Be hungry for success, hungry to make your mark, hungry to be seen and to be heard and to have an effect. And as you move up and become successful, make sure also to be hungry for helping others." – Arnold Schwarzenegger
10 of Jack Canfield's Most Powerful Quotes From "The Success Principles"
Jack Canfield is a famous American author, motivational speaker, corporate trainer and entrepreneur. He is the co-author of the famous Chicken Soup for the Soul series, which has more than 250 titles and 500 million copies in print in over 40 languages. He is the author of many books on success and personal development. One of his most famous book is "The Success Principles."
Here are 10 of the most powerful Jack Canfield quotes from the book "The Success Principles."
"The Success Principles" Quotes by Jack Canfield
1. Take 100% Responsibility for Your Life
"There is only one person responsible for the quality of the life you live. That person is you. If you want to be successful, you have to take 100% responsibility for everything that you experience in your life. This includes the level of your achievements, the results you produce, the quality of your relationships, the state of your health and physical fitness, your income, your debts, your feelings—everything!" – Jack Canfield
2. Believe in Yourself
"If you are going to be successful in creating the life of your dreams, you have to believe that you are capable of making it happen." – Jack Canfield
3. Take Action
"The world doesn't pay you for what you know; it pays you for what you do. There's an enduring axiom of success that says, "The universe rewards action." Yet as simple and as true as this principle is, it's surprising how many people get bogged down in analyzing, planning, and organizing when what they really need to do is take action." – Jack Canfield
4. Surround Yourself with Successful People
"Spend time with the people you want to become like. If you want to be more successful, you have to start hanging out with more successful people. Make a conscious effort to surround yourself with positive, nourishing, and uplifting people – people who believe in you, encourage you to go after your dreams, and applaud your victories. Surround yourself with possibility thinkers, idealists, and visionaries." – Jack Canfield
"You are the average of the five people you spend the most time with." – Jim Rohn
5. Decide What You Want
"One of the main reasons why most people don't get what they want is they haven't decided what they want. They haven't defined their desires in clear and compelling detail." – Jack Canfield
6. Unleash the Power of Goal-Setting
"If you want to be happy, set a goal that commands your thoughts, liberates your energy, and inspires your hopes." – Andrew Carnegie
7. Get Out of Your Comfort Zone
"Think of your comfort zone as a prison you live in—a largely self-created prison. It consists of the collection of can'ts, musts, must nots , and other unfounded beliefs formed from all the negative thoughts and decisions you have accumulated and reinforced during your lifetime." – Jack Canfield
8. Believe It's Possible
"Napoleon Hill once said, "Whatever the mind can conceive and believe, it can achieve." In fact, the mind is such a powerful instrument, it can deliver to you literally everything you want. But you have to believe that what you want is possible." – Jack Canfield
"You can be anything you want to be, if only you believe with sufficient conviction and act in accordance with your faith; for whatever the mind can conceive and believe, the mind can achieve." – Napoleon Hill
9. Act as If
"One of the great strategies for success is to act as if you are already where you want to be. This means thinking like, talking like, dressing like, acting like, and feeling like the person who has already achieved your goal. Acting as if sends powerful commands to your subconscious mind to find creative ways to achieve your goals. It programs the reticular activating system (RAS) in your brain to start noticing anything that will help you succeed, and it sends strong messages to the universe that this end goal is something you really want." – Jack Canfield
10. Never, Never, Never Give up
"Persistence is probably the single most common quality of high achievers. They simply refuse to give up. The longer you hang in there, the greater the chance that something will happen in your favor. No matter how hard it seems, the longer you persist the more likely your success." – Jack Canfield
60 Best John C. Maxwell Quotes for Leadership Success
John C. Maxwell is an American author and speaker who has written many books, primarily focusing on leadership. His books have sold millions of copies, with some on the New York Times Best Seller List.
His most influential writings include titles like, "The 21 Irrefutable Laws of Leadership" and "The 21 Indispensable Qualities of a Leader."
John C. Maxwell is widely considered to be one of the world's top leadership experts.
Here, we have compiled 60 of the best John C. Maxwell Quotes to help you become a better leader.
John C. Maxwell Quotes
1. "People don't care how much you know until they know how much you care." – John C. Maxwell
2.  "A man must be big enough to admit his mistakes, smart enough to profit from them, and strong enough to correct them." – John C. Maxwell
3.  "The difference between average people and achieving people is their perception of and response to failure." – John C. Maxwell
4. "Look at our society. Everyone wants to be thin, but nobody wants to diet. Everyone wants to live long, but few will exercise. Everybody wants money, yet seldom will anyone budget or control their spending." – John C. Maxwell
5. "The greatest day in your life and mine is when we take total responsibility for our attitudes. That's the day we truly grow up." – John C. Maxwell
6. "Everyone has the potential to become an encourager. You don't have to be rich. You don't have to be a genius. You don't have to have it all together. All you have to do is care about people and initiate." – John C. Maxwell
7. "Your attitude towards failure determines your altitude after failure." – John C. Maxwell
8. "A minute of thought is greater than an hour of talk." – John C. Maxwell
9. "Ideas have a short shelf life. You must act on them before the expiration date." – John C. Maxwell
10. "The greatest mistake we make is living in constant fear that we will make one." – John C. Maxwell
John Maxwell Quote (Image)
Related: 50 Powerful and Memorable Zig Ziglar Quotes
11. "To add value to others, one must first value others." – John C. Maxwell
12. "People may hear your words, but they feel your attitude." – John C. Maxwell
13. "A leader is one who knows the way, goes the way, and shows the way." – John C. Maxwell
14. "The pessimist complains about the wind. The optimist expects it to change. The leader adjusts the sails." – John C. Maxwell
15. "Everything rises and falls on leadership." – John C. Maxwell
16. "Success is due to our stretching to the challenges of life. Failure comes when we shrink from them." – John C. Maxwell
17. "Teamwork makes the dream work, but a vision becomes a nightmare when the leader has a big dream and a bad team." – John C. Maxwell
18. "Doing the right thing daily, compounds over time." – John C. Maxwell
19. "People who use time wisely spend it on activities that advance their overall purpose in life." – John C. Maxwell
20. "If we are growing we are always going to be outside our comfort zone." – John C. Maxwell
21. "Most people want to avoid pain, and discipline is usually painful." – John C. Maxwell
22. "The secret of your success is determined by your daily agenda." – John C. Maxwell
23. "As a leader, the first person I need to lead is me. The first person that I should try to change is me." – John C. Maxwell
24. "Learn to say 'no' to the good so you can say 'yes' to the best." – John C. Maxwell
25. "Time management is an oxymoron. Time is beyond our control, and the clock keeps ticking regardless of how we lead our lives. Priority management is the answer to maximizing the time we have." – John C. Maxwell
26. "We cannot become what we need by remaining what we are." – John C. Maxwell
27. "Talent is a gift, but character is a choice." – John C. Maxwell
28. "Although it's admirable to be ambitious and hard-working, it's more desirable to be smart-working." – John C. Maxwell
29. "A great leader's courage to fulfill his vision comes from passion, not position." – John C. Maxwell
30. "The dreams and passions stored within hearts are powerful keys which can unlock a wealth of potential." – John C. Maxwell
John Maxwell Quote (Image)
Related: 37 Remarkable Dale Carnegie Quotes
31. "Failed plans should not be interpreted as a failed vision. Visions don't change, they are only refined. Plans rarely stay the same, and are scrapped or adjusted as needed. Be stubborn about the vision, but flexible with your plan." – John C. Maxwell
32. "Inability to make decisions is one of the principal reasons executives fail. Deficiency in decision-making ranks much higher than lack of specific knowledge or technical know-how as an indicator of leadership failure." – John C. Maxwell
33. "Growth is the great separator between those who succeed and those who do not. When I see a person beginning to separate themselves from the pack, it's almost always due to personal growth." – John C. Maxwell
34. "The unsuccessful person is burdened by learning, and prefers to walk down familiar paths. Their distaste for learning stunts their growth and limits their influence." – John C. Maxwell
35. "Remember, man does not live on bread alone: sometimes he needs a little buttering up." – John C. Maxwell
36. "All good leaders are connectors. They relate well and make people feel confident about themselves and their leader." – John C. Maxwell
37. "You will never fulfill your destiny doing work you despise." – John C. Maxwell
38. "Have the humility to learn from those around you." – John C. Maxwell
39. "Family and friendships are two of the greatest facilitators of happiness." – John C. Maxwell
40. "Time is more valuable than money, because time is irreplaceable." – John C. Maxwell
Related: 50 Unforgettable Jim Rohn Quotes
41. "Policies are many, Principles are few, Policies will change, Principles never do." – John C. Maxwell
42. "Success comes to those who have an entire mountain of gold that they continually mine, not those who find one nugget and try to live on it for fifty years." – John C. Maxwell
43. "We don't mature momentarily, but over the long-term." – John C. Maxwell
44. "Life can be boring unless you put some effort into it." – John C. Maxwell
45. "The first time you say something, it's heard. The second time, it's recognized, and the third time it's learned." – John C. Maxwell
46. "Good executives never put off until tomorrow what they can get someone else to do today." – John C. Maxwell
47. "There are no shortcuts to any place worth going." – John C. Maxwell
48. "Success each day should be judged by the seeds sown, not the harvest reaped." – John C. Maxwell
49. "Change is inevitable. Growth is optional." – John C. Maxwell
50. "You will never change your life until you change something you do daily. The secret of your success is found in your daily routine." – John C. Maxwell
51. "People buy into the leader before they buy into the vision." – John C. Maxwell
52. "A good leader is a person who takes a little more than his share of the blame and a little less than his share of the credit." – John C. Maxwell
53. "Leaders must be close enough to relate to others, but far enough ahead to motivate them." – John C. Maxwell
54. "A successful person finds the right place for himself. But a successful leader finds the right place for others." – John C. Maxwell
55. "When the leader lacks confidence, the followers lack commitment." – John C. Maxwell
56. "A leader is great, not because of his or her power, but because of his or her ability to empower others." – John C. Maxwell
57. "A leader with confidence is a leader who brings out positive changes in people." – John C. Maxwell
58. "Leadership is not about titles, positions or flowcharts. It is about one life influencing another." – John C. Maxwell
59. "You will never change your life until you change something you do daily." – John C. Maxwell
John Maxwell Quote (Image)
60. "The sum of all your thoughts comprises your overall attitude." – John C. Maxwell