25 Best Self-help and Personal Development Books
"The difference between where you are today and where you'll be five years from now will be found in the quality of books you've read." – Jim Rohn
Whether you're interested in personal growth, finance or inspiration, there is a book to help guide you on your way. If you're looking for the best self-help books to change your life, check out the list below.
Here are 25 of the best self-help books of all time. The descriptions are from Amazon.
25 Best Self-help Books of All Time
Combining magic, mysticism, wisdom and wonder into an inspiring tale of self-discovery, The Alchemist has become a modern classic, selling millions of copies around the world and transforming the lives of countless readers across generations.
Paulo Coelho's masterpiece tells the mystical story of Santiago, an Andalusian shepherd boy who yearns to travel in search of a worldly treasure. His quest will lead him to riches far different—and far more satisfying—than he ever imagined. Santiago's journey teaches us about the essential wisdom of listening to our hearts, of recognizing opportunity and learning to read the omens strewn along life's path, and, most importantly, to follow our dreams.
In Think and Grow Rich, Hill draws on stories of Andrew Carnegie, Thomas Edison, Henry Ford, and other millionaires of his generation to illustrate his principles. This book will teach you the secrets that could bring you a fortune. It will show you not only what to do but how to do it. Once you learn and apply the simple, basic techniques revealed here, you will have mastered the secret of true and lasting success.
Money and material things are essential for freedom of body and mind, but there are some who will feel that the greatest of all riches can be evaluated only in terms of lasting friendships, loving family relationships, understanding between business associates, and introspective harmony which brings one true peace of mind! All who read, understand, and apply this philosophy will be better prepared to attract and enjoy these spiritual values.
The ancient Babylonians were the first people to discover the universal laws of prosperity. In The Richest Man in Babylon, George S. Clason reveals their secrets for creating, growing, and retaining wealth.
Through these entertaining tales of merchants, tradesmen, and herdsmen, you'll learn how to save more out what you earn, get out of debt, put your money to work, attract good luck, choose wise investments, and safeguard a lasting fortune.
Rich Dad Poor Dad is Robert's story of growing up with two dads — his real father and the father of his best friend, his rich dad — and the ways in which both men shaped his thoughts about money and investing. The book explodes the myth that you need to earn a high income to be rich and explains the difference between working for money and having your money work for you.
Secrets of the Millionaire Mind reveals the missing link between wanting success and achieving it!
Have you ever wondered why some people seem to get rich easily, while others are destined for a life of financial struggle? Is the difference found in their education, intelligence, skills, timing, work habits, contacts, luck, or their choice of jobs, businesses, or investments?
The shocking answer is: None of the above!
In his groundbreaking Secrets of the Millionaire Mind, T. Harv Eker states: "Give me five minutes, and I can predict your financial future for the rest of your life!" Eker does this by identifying your "money and success blueprint." We all have a personal money blueprint ingrained in our subconscious minds, and it is this blueprint, more than anything, that will determine our financial lives. You can know everything about marketing, sales, negotiations, stocks, real estate, and the world of finance, but if your money blueprint is not set for a high level of success, you will never have a lot of money—and if somehow you do, you will most likely lose it! The good news is that now you can actually reset your money blueprint to create natural and automatic success.
Secrets of the Millionaire Mind is two books in one. Part I explains how your money blueprint works. Through Eker's rare combination of street smarts, humor, and heart, you will learn how your childhood influences have shaped your financial destiny. You will also learn how to identify your own money blueprint and "revise" it to not only create success but, more important, to keep and continually grow it.
In Part II you will be introduced to seventeen "Wealth Files," which describe exactly how rich people think and act differently than most poor and middle-class people. Each Wealth File includes action steps for you to practice in the real world in order to dramatically increase your income and accumulate wealth.
If you are not doing as well financially as you would like, you will have to change your money blueprint. Unfortunately your current money blueprint will tend to stay with you for the rest of your life, unless you identify and revise it, and that's exactly what you will do with the help of this extraordinary book. According to T. Harv Eker, it's simple. If you think like rich people think and do what rich people do, chances are you'll get rich too!
The Law of Success is the golden key to Hill's thought–his complete and unabridged mind-power method for achieving your goals. After interviewing dozens of industrialists, diplomats, thought leaders, and successful people from all walks of life, the young Hill distilled what he learned into these fifteen core lessons, organized with an introductory chapter, 'The Master Mind,' that serves as a primer to Hill's overall philosophy.
The Monk Who Sold His Ferrari: A Fable About Fulfilling Your Dreams and Reaching Your Destiny by motivational speaker and author Robin Sharma is an inspiring tale that provides a step-by-step approach to living with greater courage, balance, abundance and joy. The Monk Who Sold His Ferrari tells the extraordinary story of Julian Mantle, a lawyer forced to confront the spiritual crisis of his out-of-balance life, and the subsequent wisdom that he gains on a life-changing odyssey that enables him to create a life of passion, purpose and peace.
Related: 9 Amazing Lessons from "The Monk Who sold His Ferrari"
Dale Carnegie's rock-solid, time-tested advice has carried countless people up the ladder of success in their business and personal lives. One of the most groundbreaking and timeless bestsellers of all time, How to Win Friends & Influence People will teach you:
-Six ways to make people like you
-Twelve ways to win people to your way of thinking
-Nine ways to change people without arousing resentment
And much more! Achieve your maximum potential—a must-read for the twenty-first century with more than 15 million copies sold!
THE #1 INTERNATIONAL BESTSELLER WITH OVER 28 MILLION COPIES IN PRINT!
A timeless business classic, Who Moved My Cheese? uses a simple parable to reveal profound truths about dealing with change so that you can enjoy less stress and more success in your work and in your life.
One of the most inspiring and impactful books ever written, The 7 Habits of Highly Effective People has captivated readers for 25 years. It has transformed the lives of Presidents and CEOs, educators and parents— in short, millions of people of all ages and occupations.
In The Success Principles, the cocreator of the phenomenal bestselling Chicken Soup for the Soul series, helps you get from where you are to where you want to be, teaching you how to increase your confidence, tackle daily challenges, live with passion and purpose, and realize all your ambitions. Filled with memorable and inspiring stories of CEO's, world-class athletes, celebrities, and everyday people, it spells out the 64 timeless principles used by successful men and women throughout history—proven principles and strategies that can be adapted for your own life, whether you want to be the best salesperson in your company, become a leading architect, score top grades in school, lose weight, buy your dream home, make millions, or just get back in the job market.
Taken together and practiced every day, these principles will change your life beyond your wildest dreams.
12. The ONE Thing by Gary Keller & Jay Papasan
YOU WANT LESS. You want fewer distractions and less on your plate. The daily barrage of e-mails, texts, tweets, messages, and meetings distract you and stress you out. The simultaneous demands of work and family are taking a toll. And what's the cost? Second-rate work, missed deadlines, smaller paychecks, fewer promotions–and lots of stress. AND YOU WANT MORE. You want more productivity from your work. More income for a better lifestyle. You want more satisfaction from life, and more time for yourself, your family, and your friends. NOW YOU CAN HAVE BOTH–LESS AND MORE. In The ONE Thing, you'll learn to * cut through the clutter * achieve better results in less time * build momentum toward your goal* dial down the stress * overcome that overwhelmed feeling * revive your energy * stay on track * master what matters to you The ONE Thing delivers extraordinary results in every area of your life–work, personal, family, and spiritual. WHAT'S YOUR ONE THING?
Forget the old concept of retirement and the rest of the deferred-life plan–there is no need to wait and every reason not to, especially in unpredictable economic times. Whether your dream is escaping the rat race, experiencing high-end world travel, or earning a monthly five-figure income with zero management, The 4-Hour Workweek is the blueprint.
This step-by-step guide to luxury lifestyle design teaches:
• How Tim went from $40,000 per year and 80 hours per week to $40,000 per month and 4 hours per week
• How to outsource your life to overseas virtual assistants for $5 per hour and do whatever you want
• How blue-chip escape artists travel the world without quitting their jobs
• How to eliminate 50% of your work in 48 hours using the principles of a forgotten Italian economist
• How to trade a long-haul career for short work bursts and frequent "mini-retirements"
Millions of readers have acquired the secrets of success through The Magic of Thinking Big. Achieve everything you always wanted: financial security, power and influence, the ideal job, satisfying relationships, and a rewarding, happy life.
Set your goals high…then exceed them!
Millions of people throughout the world have improved their lives using The Magic of Thinking Big. Dr. David J. Schwartz, long regarded as one of the foremost experts on motivation, will help you sell better, manage better, earn more money, and—most important of all—find greater happiness and peace of mind.
The Magic of Thinking Big gives you useful methods, not empty promises. Dr. Schwartz presents a carefully designed program for getting the most out of your job, your marriage and family life, and your community. He proves that you don't need to be an intellectual or have innate talent to attain great success and satisfaction—but you do need to learn and understand the habit of thinking and behaving in ways that will get you there. This book gives you those secrets!
This is the story for people who follow their hearts and make their own rules…people who get special pleasure out of doing something well, even if only for themselves…people who know there's more to this living than meets the eye: they'll be right there with Jonathan, flying higher and faster than they ever dreamed.
In the book that People magazine proclaimed "beguiling" and "fascinating," Robert Greene and Joost Elffers have distilled three thousand years of the history of power into 48 essential laws by drawing from the philosophies of Machiavelli, Sun Tzu, and Carl Von Clausewitz and also from the lives of figures ranging from Henry Kissinger to P.T. Barnum.
Some laws teach the need for prudence ("Law 1: Never Outshine the Master"), others teach the value of confidence ("Law 28: Enter Action with Boldness"), and many recommend absolute self-preservation ("Law 15: Crush Your Enemy Totally"). Every law, though, has one thing in common: an interest in total domination. In a bold and arresting two-color package, The 48 Laws of Power is ideal whether your aim is conquest, self-defense, or simply to understand the rules of the game.
Stop Procrastinating
Get More of the Important Things Done—Today!
There just isn't enough time for everything on our to-do list—and there never will be. Successful people don't try to do everything. They learn to focus on the most important tasks and make sure those get done. They eat their frogs.
There's an old saying that if the first thing you do each morning is eat a live frog, you'll have the satisfaction of knowing you're done with the worst thing you'll have to do all day. For Tracy, eating a frog is a metaphor for tackling your most challenging task—but also the one that can have the greatest positive impact on your life. Eat That Frog! shows you how to organize each day so you can zero in on these critical tasks and accomplish them efficiently and effectively.
It's no wonder that The Power of Now has sold over 2 million copies worldwide and has been translated into over 30 foreign languages. Much more than simple principles and platitudes, the book takes readers on an inspiring spiritual journey to find their true and deepest self and reach the ultimate in personal growth and spirituality: the discovery of truth and light.
In the first chapter, Tolle introduces readers to enlightenment and its natural enemy, the mind. He awakens readers to their role as a creator of pain and shows them how to have a pain-free identity by living fully in the present. The journey is thrilling, and along the way, the author shows how to connect to the indestructible essence of our Being, "the eternal, ever-present One Life beyond the myriad forms of life that are subject to birth and death."
Psychiatrist Viktor Frankl's memoir has riveted generations of readers with its descriptions of life in Nazi death camps and its lessons for spiritual survival. Between 1942 and 1945 Frankl labored in four different camps, including Auschwitz, while his parents, brother, and pregnant wife perished. Based on his own experience and the experiences of others he treated later in his practice, Frankl argues that we cannot avoid suffering but we can choose how to cope with it, find meaning in it, and move forward with renewed purpose. Frankl's theory-known as logotherapy, from the Greek word logos ("meaning")-holds that our primary drive in life is not pleasure, as Freud maintained, but the discovery and pursuit of what we personally find meaningful.
James Allen (1864 – 1912) – British writer, known for motivating books and poetry. The most famous book of James Allen "As a man thinketh" was published in 1902 and is now considered a classic work on the self-development of man.The main idea of the book is that thoughts form a person: noble thoughts create a noble person, low thoughts make a person low. Allen's books illustrate the use of the power of thought to change human capabilities. During his lifetime, he achieved neither glory nor wealth, but even now his works continue to influence people all over the world.
The Science of Getting Rich is the classic guide to creating wealth through the Law of Attraction. First published in 1910, a hundred years later it inspired Rhonda Byrne's bestselling book and movie, The Secret.
According to Wallace D. Wattles, "There is a science of getting rich, and it is an exact science, like algebra or arithmetic. There are certain laws which govern the process of acquiring riches; once these laws are learned and obeyed by any man, he will get rich with mathematical certainty."
The Science of Getting Rich will guide you in developing a vision, strengthening willpower, cultivating gratitude, and receiving life's abundant gifts.
The creation of wealth has always been regarded as a process that requires hard work and luck–often at the expense of others. In this remarkable book, the author of Quantum Healing and other bestsellers reveals how to align with the subtle yet powerful, unseen forces that affect the flow of money in our lives.
In The Power of Your Subconscious Mind, Dr. Joseph Murphy gives you the tools you will need to unlock the awesome powers of your subconscious mind. You can improve your relationships, your finances, your physical well-being. Once you learn how to use this unbelievably powerful force there is nothing you will not be able to accomplish. Join the millions of people who have already unlocked the power of their subconscious minds. I urge you to study this book and apply the techniques outlined therein; and as you do, I feel absolutely convinced that you will lay hold of a miracle-working power that will lift you up from confusion, misery, melancholy, and failure, and guide you to your true place, solve your difficulties, sever you from emotional and physical bondage, and place you on the royal road to freedom, happiness, and peace of mind.- Dr. Joseph Murphy
In 2006, a groundbreaking feature-length film revealed the great mystery of the universe—The Secret—and, later that year, Rhonda Byrne followed with a book that became a worldwide bestseller. Fragments of a Great Secret have been found in the oral traditions, in literature, in religions and philosophies throughout the centuries. For the first time, all the pieces of The Secret come together in an incredible revelation that will be life-transforming for all who experience it. In this book, you'll learn how to use The Secret in every aspect of your life—money, health, relationships, happiness, and in every interaction you have in the world. You'll begin to understand the hidden, untapped power that's within you, and this revelation can bring joy to every aspect of your life. The Secret contains wisdom from modern-day teachers—men and women who have used it to achieve health, wealth, and happiness. By applying the knowledge of The Secret, they bring to light compelling stories of eradicating disease, acquiring massive wealth, overcoming obstacles, and achieving what many would regard as impossible.
In The Power of Habit, award-winning business reporter Charles Duhigg takes us to the thrilling edge of scientific discoveries that explain why habits exist and how they can be changed. Distilling vast amounts of information into engrossing narratives that take us from the boardrooms of Procter & Gamble to the sidelines of the NFL to the front lines of the civil rights movement, Duhigg presents a whole new understanding of human nature and its potential. At its core, The Power of Habit contains an exhilarating argument: The key to exercising regularly, losing weight, being more productive, and achieving success is understanding how habits work. As Duhigg shows, by harnessing this new science, we can transform our businesses, our communities, and our lives.
25 Powerful Lessons from "See You At the Top" by Zig Ziglar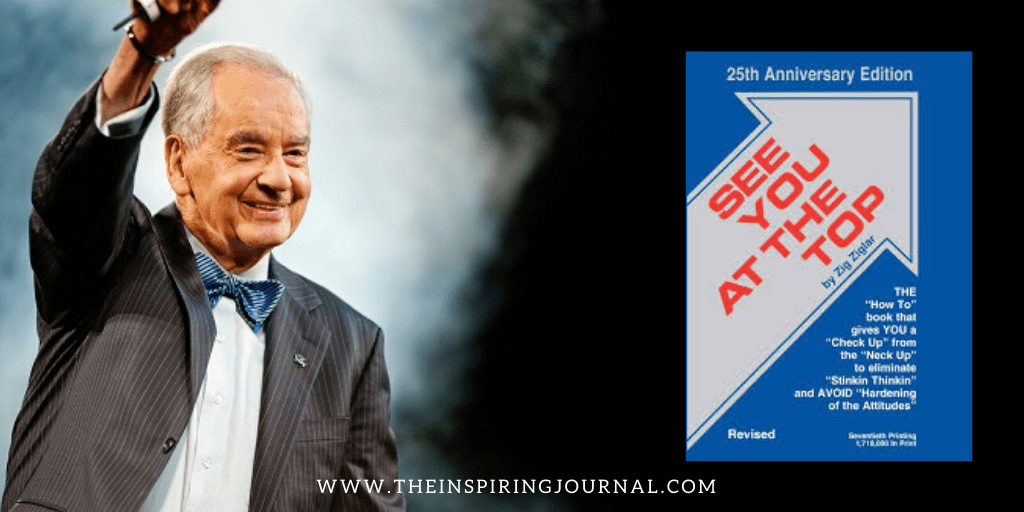 With more than 1.6 million copies in print, See You At The Top by Zig Ziglar is widely regarded as a true American classic. This book emphasizes the value of a healthy self-image and shows how to build it. This book tells you how to set and achieve goals, and provides step-by-step instructions on how to change the way you think about yourself and your surroundings.
This book has served as a guide to generations and helped them to achieve personal success. The lessons and insights from this book are widely used by education institutes, corporations, government agencies, health institutions and sales organizations.
So, here are 25 outstanding lessons from this book that will inspire you immensely.
Lessons from "See You At the Top" by Zig Ziglar
1. The only difference between the big shot and the little shot is the big shot is simply a little shot who kept shooting.
2. You can get everything in life you want if you help enough other people get what they want.
3. The way you see life will largely determine what you get out of it.
4. What you get by reaching your goals is not nearly as important as what you become by reaching them.
5. Go as far as you can see, and when you get there you will always be able to see farther.
6. We acquire the characteristics of the people we associate with on a steady basis.
7. Failure has been correctly identified as the line of least persistence, whereas success is often a question of simply sticking to the job and working and believing while you are sticking. If your particular job is harder than you might wish, just remember you can't sharpen a razor on a piece of velvet and you can't sharpen a man by spoon-feeding him.
8. Success occurs when opportunity meets preparation.
"Nothing in the world can take the place of persistence. Talent will not. Nothing is more common than unsuccessful men with talent. Genius will not. Unrewarded genius is almost a proverb. Education will not. The world is full of educated derelicts. Persistence, determination and hard work makes the difference." – Calvin Coolidge
9. When you choose a habit, you also choose the end result of that habit. Good habits are difficult to acquire, but easy to live with. Bad habits are easy to acquire, but difficult to live with.
10. Money, assuming it is legitimately earned, is a yardstick that simply measures the service you have rendered. You are obligated to earn more than you need because in so doing you create job opportunities for those less talented than you.
11. Yes, there is danger in setting goals but the risk is infinitely greater when you don't set goals. The reason is simple. Just as ships are built to sail the seas, planes to fly the heavens, and houses for living, so is man created for a purpose. You are here for a reason. That purpose is to get everything out of you that is humanly possible so you can make your contributions to mankind. Goals enable you to do more for yourself and others, too.
12. Desire is the ingredient that changes the hot water of mediocrity to the steam of outstanding success. It's the ingredient that enables a person with average ability to successfully compete with those who have far more. Desire is the "extra" that makes the little differences and it's the little differences that make the big difference in life.
13. Success in life is not determined by having been dealt the good hand. Success is determined by taking the hand you were dealt and utilizing it to the very best of your ability.
14. Desire enables an individual to take whatever ability he has in whatever he's doing and utilize it to the maximum. We should give it our best and then some, because our yearning power is more important than our earning power.
15. Desire is the ingredient that makes the difference between an average performer and a champion.
16. Doing your best is more important than being the best."
17. It's not the situation, but the way we react to it that's important.
18. If you set the example you will not have to set the rules."
19. Regardless of what your income might be, your first responsibility is to save a portion of every dollar you earn for you and your future. The excitement of saving grows with every dollar you add to your account. Soon this "good" habit is ingrained and becomes a part of you. It is permanently ingrained in you when, as the Chinese say, your children [dollars] have children and then those children have children.
20. If you didn't save something on your current income – you wouldn't save anything on your future income.
21. Life is an echo. What you send out – comes back. What you sow – you reap. What you give – you get. What you see in others – exists in you.
22. If you want to reach your goal, you must "see the reaching" in your own mind before you actually arrive at your goal.
23. You must have a goal because it's just as difficult to reach a destination you don't have, as it is to come back from a place you've never been. Unless you have definite, precise, clearly set goals, you are not going to realize the maximum potential that lies within you.
24. Your mind acts on what you feed it.
25. Others can stop you temporarily – you are the only one who can do it permanently.
Hope these outstanding life lessons will help you lead a better life.
Get this book
SEE ALSO: 10 of Jack Canfield's Most Powerful Quotes From "The Success Principles"
How Boomers and Millennials Should Communicate [Infographic]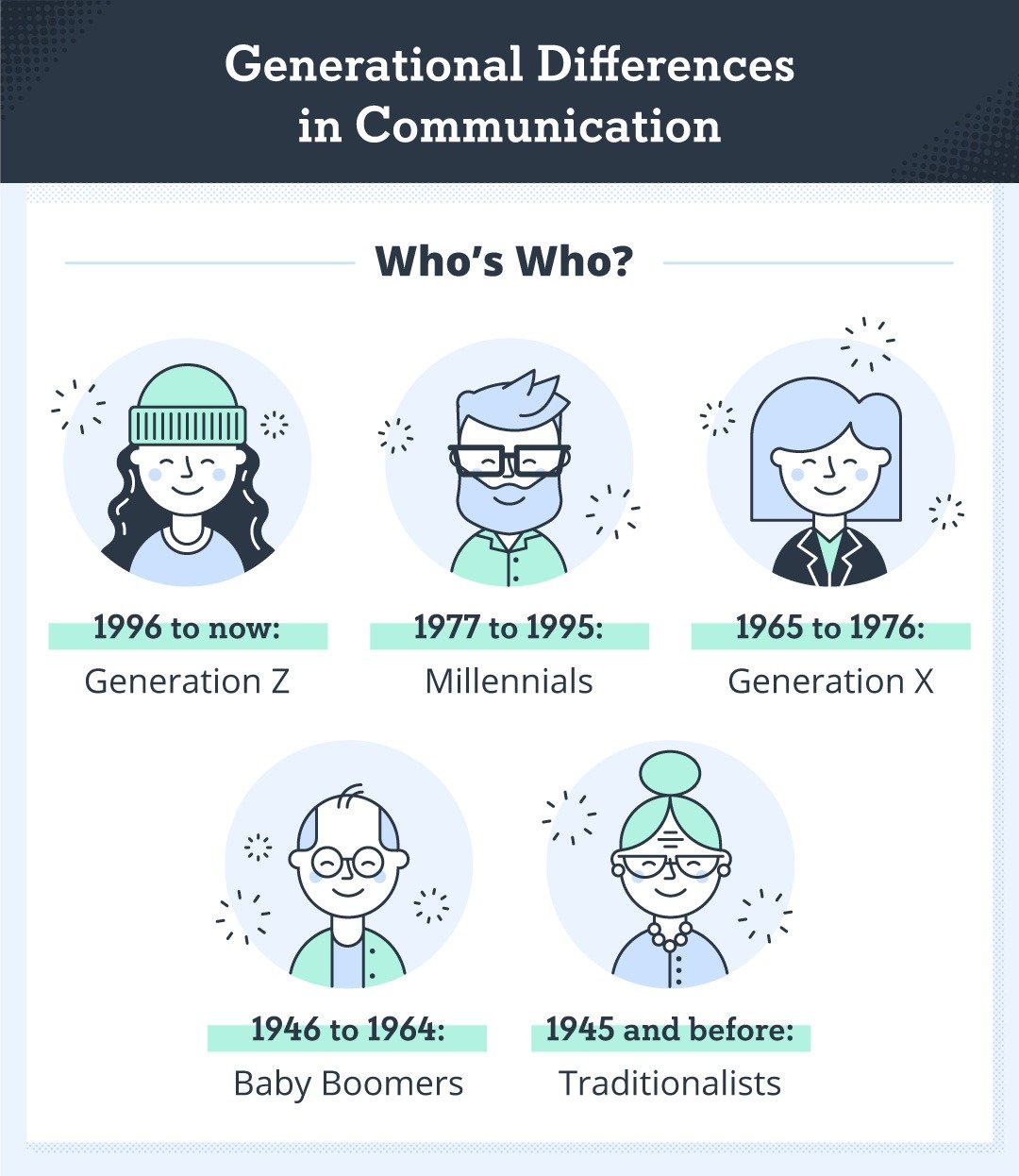 Now that Millennials are officially the biggest age group in the workforce, office life is more interesting than ever. The wide variety of ages now includes Baby Boomers, Gen X, Millennials, and Gen Z, and all of these different perspectives and backgrounds can be a great asset for any company.
However, it can also cause some issues for business owners and HR managers. Though the difference in viewpoints is great for creativity, it can also cause workplace conflict when younger and older employees don't see eye to eye. In order to communicate effectively, coworkers must understand the specific values and work ethic styles that are unique to each generation.
Take a look at the the guide from TurboTenant below to learn more about what makes each generation tick, along with strategies for communicating effectively in the workplace.
Factors of Considering M&A to Your Company
As of 2019, the number of entrepreneurs worldwide has ballooned to 582 million. Despite this remarkable surge, it's been reported that 22.5% of small businesses actually fail within their first year of operation. These statistics only prove how complex and ever-changing the corporate world is.
Thus, every ambitious business owner must be educated in various ways to manage sweeping economic changes. If you also run an enterprise, you should be aware of different strategies that will allow you to mitigate losses and create more viable opportunities.
A popular example is merger and acquisition (M&A), which is an expansion practice adopted by many international firms for their wide range of advantages. However, since corporate matters can sometimes lead to unexpected outcomes, any major move should be carefully scrutinized before taking a course of action.
Looking to engage in M&A? Below, we have compiled some crucial factors to take into account. But before that, let's have a brief discussion on how the two processes work.
Mergers and Acquisitions | An Overview
As defined by global education provider EduPristine, M&A are methods of consolidating companies. To differentiate the two strategies—mergers entail the "merging" or combining of two businesses, while in acquisitions, one large corporation "acquires" or takes over a smaller organization.
There are multiple reasons why business owners resort to M&A, but in general, motivations revolve around the maximization of wealth. The processes of M&A can be accomplished through different ways, such as acquiring common shares, exchanging shares, exchanging shares for assets that have high monetary value, and purchasing assets.
Mergers are classified into three primary types: horizontal (the companies belong to the same industry), vertical (the companies are combined but operate individually and serve different purposes), and conglomerate (a group of businesses that are unrelated or belong to a wide array of industries).
Key Considerations to Take into Account When Facing a Merger or Acquisition
Regardless of what type of expansion strategy your company will be involved in, taking certain steps can boost the success of the integration and ensure a favorable conclusion for both parties.
1. Reassess your reason
As previously stated, there are several reasons why business owners opt for M&A. For instance, when an enterprise has achieved financial stability and consistent growth, it's deemed ideal to pursue expansion. However, expanding can be tricky, especially if you plan to branch out, penetrate foreign markets, or enter a different line of industry.
Accordingly, buying a business that has already been established in the location or industry that you wish to explore can help reduce risks. This move can also help you lower the amount of capital, increase market shares, and absorb technologies that can improve your operations.
However, if you're the selling party, your decision can be motivated by various reasons. Pamela Wesley, CEO of Cerius Executives, share that business owners choose to sell their company to liquidate their monetary value, avoid risks, and seek new opportunities.
If your company is already struggling, selling it will allow you to salvage a portion of its monetary value and use that amount for business financing for a different venture. You can also save your business by merging with a larger enterprise.
Whether you're the one buying or selling, evaluating your primary motivation is necessary to match your objectives with the detailed integration plan. It also helps you figure out if M&A is indeed the right choice.
2. Work with a suitable partner
Choosing the wrong partner can be extremely detrimental to the entire transaction. In fact, it can result in difficult negotiations, and in worse cases, abortion of M&A. Thus, be sure to meticulously assess a company to determine if it's a strategic, organizational, and cultural fit to yours.
Moreover, it's vital to work with a reputable and trustworthy enterprise that is guided by values and a mission statement that you also believe in. Mutual trust between the two parties allows for smoother negotiations and better cooperation.
You also need to calculate potential synergies or the particular aspects where two companies complement each other. Careful estimation enables you to analyze the feasibility of the synergies, so in the implementation stage, these planned synergies can be successfully realized.
3. Determine the company's accurate value
Quality valuation needs an in-depth study of the company's history, financial reports, and other factors linked to profitability. A poor valuation can lead to an inflated price, making the transaction a failure of hindsight, regardless of how efficiently the integration proceeds.
If you're the seller, it's also critical to know that the offer price is negotiable. Forbes suggests that you look into market comparables, the level of expertise and experience of your management team, the projected growth of your business, and the proprietary technologies your organization licenses or owns. Additionally, if there are multiple bidders, negotiation will be even more ideal.
4. Prioritize effective communication
For effective communication between the two parties, select a competent management team and reliable consultants. These professionals will guide the entire process and make sure that honesty is upheld in the communication within and outside of the organization.
Moreover, it's essential to coherently convey the integration plan to all employees for smooth and swift implementation. To add, an impending merger can distract and stress employees, which can impact their performance negatively. The managers will be responsible for inspiring confidence among the workers to make sure that efficiency won't be compromised during the integration phase.
5. Consider the legislation and present economic condition
Legislation, both national and international, can either validate or hinder M&A, considering its significant influence on property ownership and financial reporting. This is especially true for organizations with huge market share, as they are usually under the control of legislative power.
Because legislation can greatly affect the M&A's success, it's a must to consult a legal professional and assess applicable provisions to make sure that the transaction is capacitated by law.
Furthermore, while M&A transactions are organization-specific, the state of the economy still holds influence on how they will fare out. Thus, in addition to favorable legislation, an agreeable economic climate can also heighten the likelihood of success.
The Takeaway
Considering vital factors can help you gauge if M&A is worth a shot. Remember, abortive attempts not only waste your time and financial resources. During the transaction, business-sensitive information is also exchanged, so your company will be put at risk if it fails. Therefore, do a careful analysis of various aspects of M&A and seek the assistance of experts before proceeding.
Author: Eric Allison
Eric is a serial entrepreneur with a high degree of experience in both fields. After putting up several of his own successful Staffing firms and eventually brokering their exit he began his career in M&A.
Eric has an in-depth understanding of both the buy-side and sell-side of Mergers & Acquisitions, having had first hand experience on both ends of the deal.
Today, he is known as a dynamic and passionate visionary with remarkable M&A instincts targeted at achieving highly-strategic goals. Eric has successfully completed multiple cross-border M&A transactions in the US and Asia and has widened his focus to the Staffing and Recruiting, Healthcare and IT industries.